GET RESULTS
Why should you choose Tiny Bubbles Aquatic Academy?
ABOUT
Meet the owners/instructors
Who We Are
Hi our names are Kirsten and Matt Ongel, owners and instructors of Tiny Bubbles Aquatic Academy. We are the parents of 4 children: Matt's 23 year old daughter Jaylan and our boys ages 15, 13 and 8! When our first son was around 1 year old, we began searching for swim programs, we quickly became frustrated with the lack of programs for his age group. We were very fortunate to have found an instructor in the West Palm area with expertise in this field. We were mesmerized at the sight of babies with the ability to go from a swimming position to a floating position without the assistance of an adult. We were so impressed with the skills learned and the outcome that it motivated us to make a career change. I have a strong background working with children. I have a bachelors degree in Elementary Education and an Associates Degree in Child Studies. My husband has coached soccer of all ages for many years.. Kids just love him. We have decided to join the crusade to protect our children. We get as excited as you do when you see the life-saving skills they have attained!
We have over 300 hours of hands on training in infant aquatic survival, Red Cross lifeguard certified as well as certified in Adult/Infant/Child CPR and First Aid. Over the past 11 years we have taught thousands of children how to be safe and have fun in the water. We continue our education by attending conferences and seminars focused on swimming techniques. Tiny Bubbles was born in 2005 and has been helping children be safe and confident in the water since.
I look forward to hearing from you soon and having you take part in this very important process.

Contact Info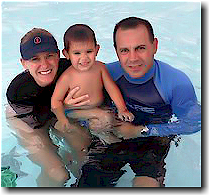 Hours of Personal Training
TESTIMONIALS
What people are saying
I am so amazed at how quickly (2 weeks) my 3 year old daughter learned, not only the survival techniques, but also how to actually swim across the entire pool. I was not expecting such quick results. When I took my son to a type of "group style swimming lessons" 5 years ago, the approach was very different and I did not have any previous experience to compare it to. Now, I definitely believe the one -on -one instruction was the key to my daughter's success. Your consistency and nurturing personality helped her become a confident swimmer. Thanks to you, I feel completely secure in her ability to save herself if she fell into the water: pool, canal, lake, etc. The most satisfying of all, is to see how proud she is of her accomplishment and the relief of knowing she would be safe.
My husband and I are so thankful for the skills Kirsten taught our two boys. William (age 2) loves the water now and just six short weeks ago he was so scared of the water he did not even want to be in it with us holding him. Joseph (age 11 months) has also learned to be safe in the water. He is a great swimmer. We do not have a pool but both of our parents do and the hardest part of having either one of our parents watch our kids was the fear of them getting into the backyard and falling in the pool. We no longer fear that because thanks to Kirsten we know our children would know what to do if they fell in. They also love to play in the pool now. We are so proud of our children. I never would have believed she could get my Joey swimming he is just a baby but Kirsten did it. She is amazing! One on one swim lessons is the best investment we have ever made. I would recommend Kirsten to anyone who has kids.
I can't begin to tell you all that you did for our family. I feel so much better about my kids being in the pool. I feel that by enrolling them in your classes, I've given them a life's worth of loving water, instead of fearing it. Chloe, who is now 31 months old (2 ½), just loves swimming in our pool. She has no fear of putting her face in and swimming. She even dives for toys! I know that my kids will NEVER be left near a pool alone, but if they were, they would have the mental and physical skills needed to stay alive.
FYI..I took Kelsey in at my parents today to "show off"! (kept my fingers crossed) She did so good. I took her in a second time so my momo could video. She did better prior to videoing, and was playing and actually laughed while floating on her back. Thanks again!! You have given my child a gift that I can not thank you enough for!! YOU ROCK!!!!
Kirsten is amazing! I truly believe there is nothing better than the one on one swim sessions she has given my boys. I took my son Kyle, who is now 3, to Kirsten right after he turned 1. I couldn't believe in just a few weeks how he was able to do swim float swim. He absolutely loves the pool and it is such a great feeling for him and me knowing he can swim on his own. I have taken him back every year for a refresher. I am currently taking my son Zack who is 18 mths. Kirsten is so patient and she has such confidence in their swimming abilities.My husband and I are so pleased with the gift of swim that Kirsten has given our family. I love emailing pictures and videos to our family and friends. They are always in such awe of seeing our babies swimming.
I cannot begin to say enough about Ms. Kirsten and Tiny Bubbles Aquatic!!! It has been a life changing event for my son, Zac and our family! Zac was 2 when he did swim lessons with Ms. Kirsten.Swim lessons were something my husband and I felt were imperative! Living in Florida, surrounded by pools is scary with a small child. However, after 4 weeks of swim lessons, we can now do so much around the water withoutfear!! It was totally amazing watching Kirsten in the pool with my son.He cried for awhile, but Kirsten never flinched! She is so patient with these kids!! I love to take him swimming now and watch from the side! He can play with his friends in the water and knows how to safely get himself out!! It's more than swim lessons, it's survival lessons! I would recommend this to every person in this area with a child who can not swim!!! Putting Zac in Kirsten's swim class was by far one of the best decisions I've made toward the safety of my child!! Thank you Ms. Kirsten!!!!
I am the proud mother of two wonderful daughters. At the ages of 5 and 2 they had the privilege to take swim lessons from Kirsten and we are so grateful! Both of my girls started out as complete non-swimmers. After their lessons I am the confident mother of two very capable swimmers! What peace of mind to know that in a state surrounded by water my children know what to do if they fall in. Water is now a fun activity for our entire family! Thank you Kirsten!!
Both of my daughters learned to swim with Kirsten. My older daughter (age 6) was scared of the deep end and my younger daughter (age 3) was just scared and would only float on inflatables. After the first lesson we saw progress and after just a few weeks they could both swim. My older daughter was even learning strokes. I now feel confident that both of them are equipped with the right skills to save themselves, God forbid, if something were to ever happen. I highly recommend Kirsten's method of teaching and the individual private lessons.
CONTACT
For more information
FACTS
Many parents say, I never imagined my child would be able to do that! It is true, the results will amaze you!
* In Florida swimming lessons is one of the most important things you can do to keep your child safe. The statistics speak for themselves.
FACTS
Drowning is the #1 cause of death ages 1-4 in Florida -Florida Dept of Health
75% of victims are between 12-25 months -American Academy of Pediatrics
65% drown in the family pool -Orange County, CA, Fire Authority
33% drown in a neighbors or relatives pool -American Academy of Pediatrics
For every child who drowns, four are hospitalized for a near drowning - National Center for Heatlh Statistics
77% were out of the parents sight for less than 5 minutes. - Orange County, CA, Fire Authority
A child can drown in the time it takes to answer a phone -U.S. Consumer Product Safety Commission
FAQ
Consistency in attendance is key. Toddlers and young children do best with short lessons multiple times per week, rather than one long lesson. We use a variety of proven methods from swim schools and infant toddler programs.
•Lessons begin with the parent/caregiver handing the child to the instructor in the pool.
•If your child is reluctant to get in the water, we ask that you reassure them by focusing on the skills we are working on rather than their emotions. Your child needs your encouragement not your sympathy. As your child becomes familiar with the process we will concentrate on particular skills.
We do several check out lessons in clothing to see if your child could perform skills equally well if he/she fell into the water while fully clothed.
Infants ages 6-12 months can learn to roll over from a face down position in the water and rest in a comfortable float to breathe. Active infants may begin the kicks of swimming and be able to go a short distance before floating. This takes approx. 12-20 lessons.
Children ages 12 months to 5 years can learn to open his eyes, hold his breath, and grasp the pool edge. They also learn how to turn back towards the edge in case of an accidental fall in. They can learn to paddle to the steps, side or platform. When the child feels the need to breathe, he will roll onto his back. After a short rest period he will flip onto his tummy and continue to swim while looking for the pools edge or other landing. This takes approx 16-24 lessons.
Children who have learned from the swim float swim program naturally progress into freestyle swimming with rhythmic breathing. This transition occurs between ages 4-6.
REGISTRATION

Step 1: Register
Add swimmer information to the personal section
Parent info goes in the emergency contact section
Sign Waiver and click register
Click to Register

Step 2: Login/Billing
Login and click edit to enter billing information
Add debit card and click save
Follow instructions in registration email for purchasing a swim package
Click to Login

Step 3: Email
Send an email to tinybubblesaquaticacademy@yahoo.com to confirm your account, payment and that you are ready to begin at your given date and time. Subject line "Ready to Start" so you can be added to the electronic schedule.